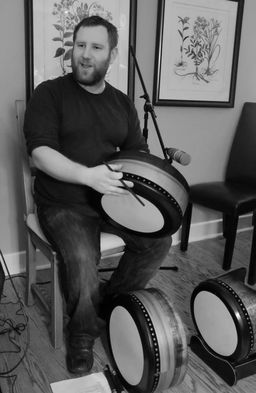 Although Jacob is an active performer, teaching is also a regular part of his day to day life and one of the most rewarding and enjoyable experiences there is.  Jacob's method of teaching has been developed and continues to be developed from his experience learning the many aspects of the Bodhrán and developing his technique that he plays and continues to improve upon today.
The major benefit of having a universal technique to teach is that lessons can become entirely tailored to the student.  After all, everyone is different in terms of physical attributes (size of hand and fingers) as well as physical limitations, age and health issues.  Therefore, having each individual student discover the most healthy and effective technique is of prime importance for a student's development.
Whether you're looking to connect with the roots of Bodhrán playing, delve into the modern styles, or perhaps a little of both, Jacob is happy to help you reach your full potential!