About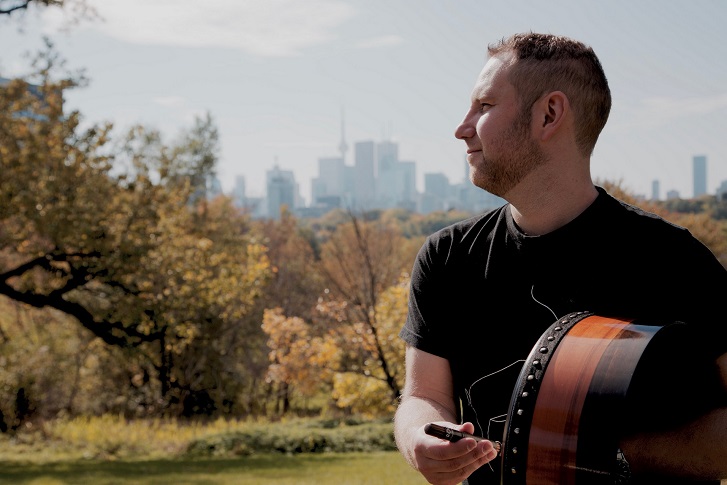 "One of the finest bodhran players on the planet today...a true rhythmatist, and the blood of the beating Celtic heart..." - Celtic Life International Magazine
Jacob McCauley is a leading Bodhrán player and instructor, renowned for his innovative approach to the instrument, and whose work has expanded the boundaries and re-defined the potential of this simple frame drum within and beyond the Irish tradition. Based near Toronto, Canada, Jacob grew up in a household filled with Irish music, where he was immersed in Bodhrán playing from a young age. He is an active performer, a touring artist, and a teacher.
Throughout his career, Jacob has played with different groups of varying genres all over the world, including: the multi-award-winning Irish band The Chieftains; five-time Juno Award-winner and Grammy-nominated Canadian Rock band Glass Tiger; award-winning Scottish band Lau; award-winning, Quebec-based Genticorum; award-winning Irish flutist Nuala Kennedy; three-time All Ireland Champion Irish fiddler Maeve Donnelly; several-time Canadian and US National Fiddle Champion Shane Cook; and two-time Canadian Grand Masters Fiddle Champion Julie Fitzgerald and her Canadian Folk Music Award-nominated family band The Fitzgeralds.
Much of his work over the last decade has been devoted to his trio NUA, recognized for their original compositions and avant-garde approach to traditional music.
Jacob's teaching experience stretches over 15 years, during which he has been faculty in educational institutions such as the Riverside Celtic College in Ontario, The Gaelic College in Cape Breton, and the Goderich Celtic Roots Festival and College in Ontario. He has also taught a range of workshops, classes, and private lessons throughout that time, and currently runs an online Zoom workshop series as well as online instructional subscription content.
Jacob's groundbreaking Bodhrán technique has allowed him to branch out from traditional music and explore a wide array of musical styles. Utilizing his distinctive backhand technique –– with precise tonal control and melodic range –– and his signature tipper hold, which fuses traditional and modern influences such as the single-ended styles into his own individual hybrid style, Jacob begun to incorporate a much larger range of melodic notes, as well as intricate, complex and odd time signatures, including his favourite 5/8 and 7/8. He has written and has been featured in numerous publications over the years, including DRUM! Magazine, The Living Tradition Magazine, and Celtic Life International Magazine.
"A master of the bodhrán, Jacob McCauley's playing shows depth and dexterity on both classic and contemporary Celtic music. His super-skilful technique adapts to drive energetic reels, or to provide lovely delicate tipping on slower numbers. Jacob has that rare ability to step up at the right moments, but fade into the background as required. His performance always enhances the music." - Alex Monaghan: well-known Traditional music reviewer from Irish Music Magazine, The Living Tradition Magazine and Folk World